EDR2RXD1 Replacement for Refrigerator Water Filter 2 EDR2RXD1, Water Filters, by CoachFilters 3Packs
SECURE TRANSACTION
Tips: The product was updated, you may receive a different package.
Frequently Bought Together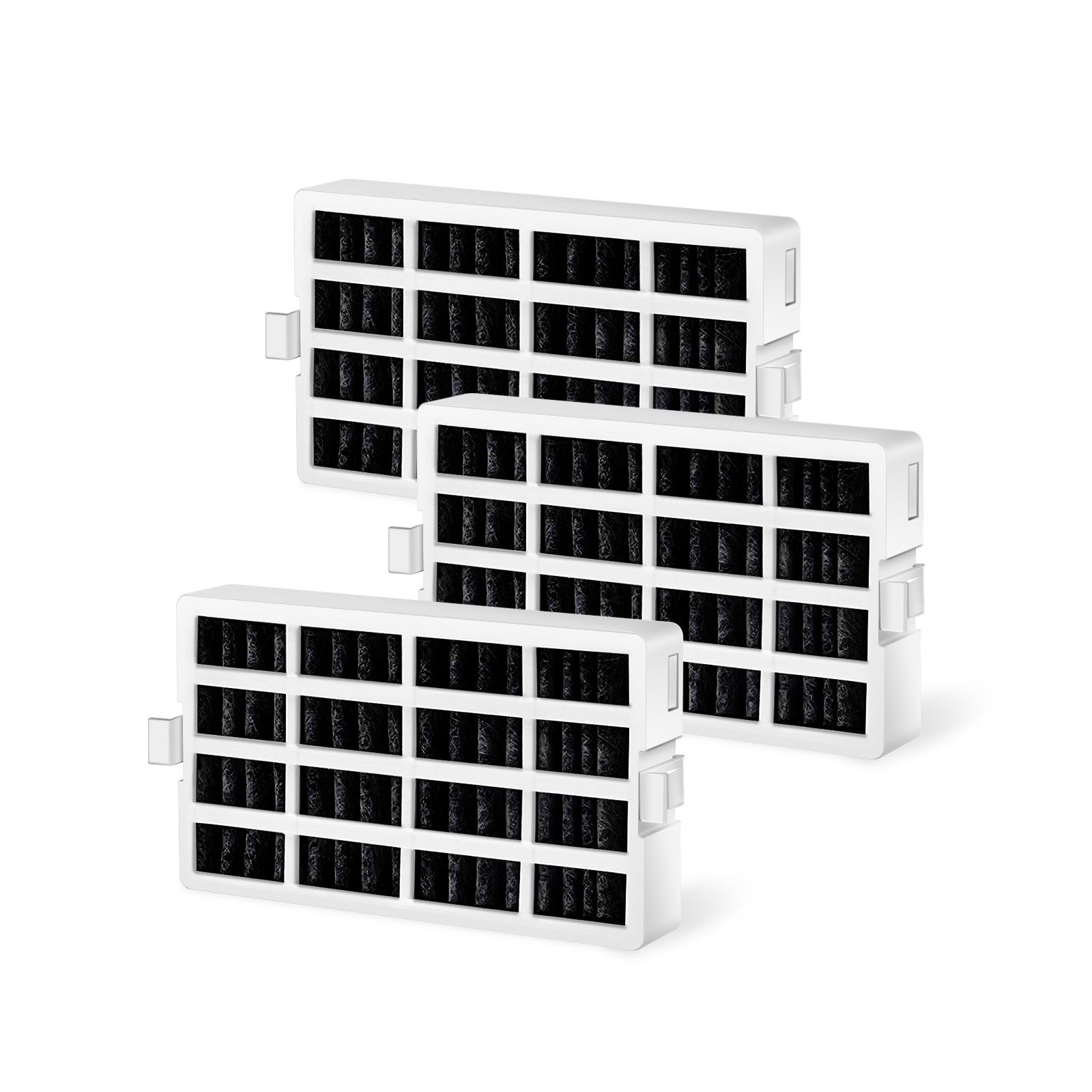 This item:

EDR2RXD1 Replacement for Refrigerator Water Filter 2 EDR2RXD1, Water Filters, by CoachFilters 3Packs

-

$45.99

W10311524, AIR1, AP4538127 Refrigerator Air Filter by DFilters 3pk

- $15.99
Description
Product Details
EDR2RXD1 Water Filter Compatible W10413645A, Whirlpool Refrigerator Water Filter 2, by CoachFilters 3Packs
The Coachfilters CF2 for Whirlpool EveryDrop EDR2RXD1 (AKA FILTER 2) takes over for the W10413645A filter and is used in refrigerators by Whirlpool, KitchenAid, Maytag, Amana, Jenn-Air, Kenmore and others. The Whirlpool
EDR2RXD1 filter
creates better tasting water for drinking and making beverages as well as clean, clearer, healthy ice.
Features:
Easy installation and operation
Helps reduce chlorine taste and odor
Helps reduce contaminants found in tap water and improves its quality
Replaces the popular W10413645A
Fast shipping
How To Install The W10413645A Filter:
Locate the filter door in the right side of the refrigerator ceiling.
Press in up on the filter cover door to release the door latch. The door will drop down.
If you are replacing a filter rotation the used filter counter clockwise to remove it from the filter head. Note: there may be some water in the filter and some spilling may occur.
Take the new water filter out of the packaging and remove the cap. Be sure the O-rings are still in place after the cover is removed.
Align the arrow on the water filter label with the cutout notch in the filter head and insert the filter.
Turn the filter clockwise until it locks into the housing.
Lift the filter up into the compartment. Close the filter door completely.
Reduce water spurts by flushing air from the system. Run water continuously for 4 gallons (approximately 5 minutes) through the dispenser until water runs steady. Additional flushing may be required in some households where water is of poor quality.
Compatible Part Numbers:
46-9903, 46-9924, 9082, 9903,9924
EDR2RXD3, FILTER2, P6RFWB2, P9WB2L
W1023815A, W10413645, W10413645A, W10413645AT, W10609378 ,W10680605, W10744238
Compatible Refrigerator Model Numbers
7MF2976AEM00, 7MF2976AEM01, 7MF2976AEM02, 7MF2976AEM03, 7WF736SDAM10, 7WF736SDAM11, 7WF736SDAM12, 7WF736SDAM13, 7WF736SDAM14
IX5BBEXDS00, IX5BBEXDS01, IX7DDEXDSM00, IX7DDEXDSM01, IX7DDEXDSM02
JBRFL24IGX00, JBRFL30IGX00, JBRFL36IGX00, JBRFR24IGX00, JBRFR30IGX00, JBRFR36IGX00, JBZFL18IGX00, JBZFL24IGX00, JBZFL30IGX00, JBZFR18IGX00, JBZFR24IGX00, JBZFR30IGX00
JFFCC72EFP00, JFFCC72EFP02, JFFCC72EFS00, JFFCC72EFS02, JFFCC72EHL01, JFX2897DRM00, JFX2897DRM01, JFX2897DRM02, JFX2897DRP00, JFX2897DRP01, JFX2897DRP02
KFFS20EYBL00, KFFS20EYBL01, KFFS20EYBL02, KRMF606ESS01, KFFS20EYBL04, KFFS20EYMS00, KFFS20EYMS01, KFFS20EYMS02, KFFS20EYMS04, KFFS20EYWH00, KFFS20EYWH01, KFFS20EYWH02, KFFS20EYWH04, KFIS29BBBL00, KFIS29BBBL01, KFIS29BBBL02, KFIS29BBBL03, KFIS29BBMS00, KFIS29BBMS01, KFIS29BBMS02, KFIS29BBMS03, KFIS29BBWH00, KFIS29BBWH01, KFIS29BBWH02, KFIS29BBWH03, KFIS29PBMS00, KFIS29PBMS01, KFIS29PBMS02, KFIS29PBMS03, KFIV29PCMS00, KFIV29PCMS01, KFIV29PCMS02, KFIV29PCMS03, KRFC604FSS00, KRFC604FSS01, KRFC704FBS00, KRFC704FBS01, KRFC704FPS00, KRFC704FPS01, KRFC704FSS00, KRFC704FSS01, KRFC804GBS00, KRFC804GPS00, KRFC804GSS00, KRFF300EBL00, KRFF300EBS00, KRFF300ESS00, KRFF300ESS01, KRFF300EWH00, KRFF300EWH01, KRFF507EBL00, KRFF507EBL01, KRFF507ESS00, KRFF507ESS01, KRFF507EWH00, KRFF507EWH01, KRFF507HBL00, KRFF507HBS00, KRFF507HPS00, KRFF507HWH00, KRFF707EBS00, KRFF707ESS00, KRFF707ESS01, KRMF606ESS00, KRMF606ESS01, KRMF706EBS00, KRMF706EBS01, KRMF706ESS00, KRMF706ESS01, KRMF706ESS02
MFB2055DRE00, MFB2055DRE01, MFB2055DRH00, MFB2055DRH01, MFB2055DRM00, MFB2055DRM01, MFB2055FRW00, MFB2055FRZ00, MFB2055YEB01, MFB2055YEB02, MFB2055YEM01, MFB2055YEM02, MFB2055YEW01, MFB2055YEW02, MFF2055DRE00, MFF2055DRE01, MFF2055DRH00, MFF2055DRH01, MFF2055DRM00, MFF2055DRM01, MFF2055FRB00, MFF2055FRW00, MFF2055FRZ00, MFT2574DEE00, MFT2574DEE01, MFT2574DEE02, MFT2574DEH00, MFT2574DEH01, MFT2574DEH02, MFT2574DEM00, MFT2574DEM01, MFT2574DEM02, MFT2672AEB10, MFT2672AEB11, MFT2672AEB12, MFT2672AEM10, MFT2672AEM11, MFT2672AEM12, MFT2672AEW10, MFT2672AEW11, MFT2672AEW12, MFT2673BEB10, MFT2673BEB11, MFT2673BEB12, MFT2673BEM10, MFT2673BEM11, MFT2673BEM12, MFT2673BEW10, MFT2673BEW11, MFT2673BEW12, MFT2772HEZ00, MFT2776DEE00, MFT2776DEE02, MFT2776DEH00, MFT2776DEH02, MFT2776DEM00, MFT2776DEM01, MFT2776DEM02, MFT2776FEZ00, MFT2776FEZ01, MFT2778EEZ00, MFT2778EEZ01, MFT2976AEB00, MFT2976AEB01, MFT2976AEB02, MFT2976AEB03, MFT2976AEM00, MFT2976AEM01, MFT2976AEM02, MFT2976AEM03, MFT2976AEW00, MFT2976AEW01, MFT2976AEW02, MFT2976AEW03, MFW2055DRE00, MFW2055DRE01, MFW2055DRH00, MFW2055DRH01, MFW2055DRM00, MFW2055DRM01, MFW2055FRH00, MFW2055FRZ00, MFW2055YEB00, MFW2055YEB01, MFW2055YEB02, MFW2055YEM00, MFW2055YEM01, MFW2055YEM02, MFW2055YEW00, MFW2055YEW01, MFW2055YEW02, MFX2676FRZ00, MFX2876DRE00, MFX2876DRE01, MFX2876DRE02, MFX2876DRH00, MFX2876DRH01, MFX2876DRH02, MFX2876DRM00, MFX2876DRM01, MFX2876DRM02
EDR2RXD1 Replacement for Refrigerator Water Filter 2 EDR2RXD1, Water Filters, by CoachFilters 3Packs
$45.99