CoachFilters Compatible EDR2RXD1 Refrigerator Water Filter, W10413645A, 6Pack
Item Dimensions LxWxH:

2.5 x 2.5 x 7.5 inches
Item Weight:

0.47 Pounds
Brand:

Coachfilters
---
About this item
BPA-free, Lead-free superior material.

Activated carbon block made by coconut shell from Sri Lanka.

Easy replace in minutes, doesn't require any tools.

Replace every 6 months or 200 gallons.
New Year 10% Discount Promotion, CODE: NEWYEAR10
>See more product details
Product Description
Reviews
Product Sku
CF2
Product Length (inch)
2.5
Product Height (in.)
7.5
Product Width (in.)
2.5
Filter Material
Sri Lankan Activated Carbon
Pack Size
2 OR 3
Operating Pressure
30-120 psi
Water Filtration System Type
Refrigerator
Operating Temperature
33-100 °F
Brand Compatibility
Whirlpool,Maytag,KitchenAid,Jenn-Air,Amana
Returnable
30 Day
Filter Life
6 Months / 200 Gallons
Filtration Method
Carbon Spun Fiber
Flow rate
0.5 gpm
Replacement Filter Type
Replacement Refrigerator Filters
Part Type
Filter Accessories
The Coachfilters CF2 is compatible with following models:
Do you know your OEM part number? Use our search to cross-check it!
All
Whirlpool
Kenmore
Kitchenaid
Maytag
Jenn-Air
Whirlpool Filter Models:
Whirlpool Refrigerator Models:
Kenmore Filter Models:
Kenmore Refrigerator Models:
Kitchenaid Refrigerator Models:
Maytag Refrigerator Models:
Jenn-air Refrigerator Models:

The service life of a CF refrigerator filter is as long as 6 months, which is far better than drinking bottled water directly in terms of saving money and environmental protection.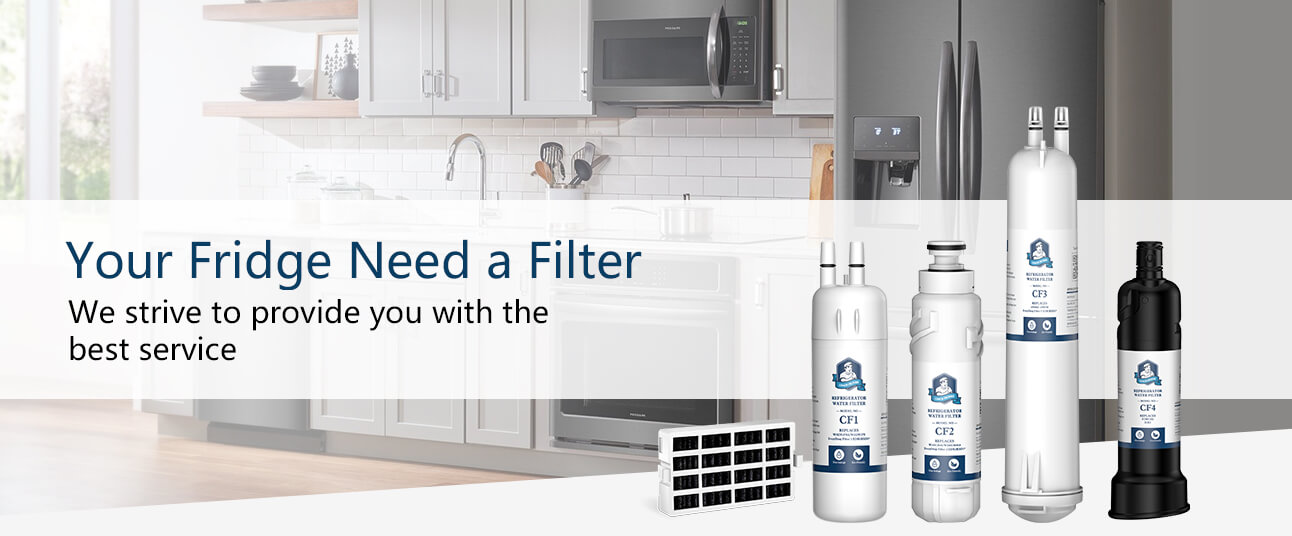 The refrigerator filter provided by CF is compatible for most popular refrigerator brands on the market, including but not limited to Whirlpool, Kenmore, Maytag, Amana, KitchenAid, JennAir and etc.
Product Details
Coachfilters for Whirlpool EDR2RXD1 Fridge Filter also known as Filter2 & W1041645A
The Coachfilters CF2 for Whirlpool EveryDrop EDR2RXD1 (AKA FILTER 2) takes over for the W10413645A filter and is used in refrigerators by Whirlpool, KitchenAid, Maytag, Amana, Jenn-Air, Kenmore and others. The Whirlpool
EDR2RXD1 filter
creates better tasting water for drinking and making beverages as well as clean, clearer, healthy ice.
Features:
Easy installation and operation
Helps reduce chlorine taste and odor
Helps reduce contaminants found in tap water and improves its quality
Replaces the popular W10413645A
Fast shipping
How To Install The W10413645A Filter:
Locate the filter door in the right side of the refrigerator ceiling.
Press in up on the filter cover door to release the door latch. The door will drop down.
If you are replacing a filter rotation the used filter counter clockwise to remove it from the filter head. Note: there may be some water in the filter and some spilling may occur.
Take the new water filter out of the packaging and remove the cap. Be sure the O-rings are still in place after the cover is removed.
Align the arrow on the water filter label with the cutout notch in the filter head and insert the filter.
Turn the filter clockwise until it locks into the housing.
Lift the filter up into the compartment. Close the filter door completely.
Reduce water spurts by flushing air from the system. Run water continuously for 4 gallons (approximately 5 minutes) through the dispenser until water runs steady. Additional flushing may be required in some households where water is of poor quality.